Parameters:
Edit
Health: 290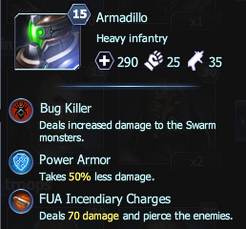 Melee Attack: 25
Range Attack: 35
Armed with brownish-clay color armor suit, Armadillo is a trust-worthy companion in assisting players in mission, especially those include eradicating swarm monsters. He possesses emerald hologram face mask and a powerful Fuel-use Artillery (FUA.) incendiary charges, which can readily put his enemies on deadly assault. He is tough with his power armor, which can allow him to sustain under fierce attack that reduces 50% damage from enemies.
Method to Obtain the Squad:
Edit
This unit is no longer available after the update on 24th November, 2015.
Abilities:
Edit
Bug killer: Deal increased damage to Swarm monsters.
Power Armor: Receive 50% less damage.
FUA. Incendiary Charges: Deal 70 damage (Range) and pierce through enemies.
Ad blocker interference detected!
Wikia is a free-to-use site that makes money from advertising. We have a modified experience for viewers using ad blockers

Wikia is not accessible if you've made further modifications. Remove the custom ad blocker rule(s) and the page will load as expected.